ICTA Represents Sri Lanka at the Global Digital Economy Conference 2023 in Beijing
By the esteemed invitation of the Global Digital Economy Conference 2023 (GDEC) and the Sri Lankan Embassy in China, Mr. Mahesh Perera, the CEO, and Mr. Sachindra Samararatne, the Associate Chief Digital Economy Officer of the Information and Communication Technology Agency of Sri Lanka (ICTA), proudly represented Sri Lanka at this prestigious gathering held in Beijing from 4th to 7th July. Under the theme "Digital Drives Development, Intelligence Leads the Future," GDEC aimed to strengthen China's digital economic prowess, establish a leading framework for digital economic development, and showcase groundbreaking achievements in constructing benchmark cities for the global digital economy.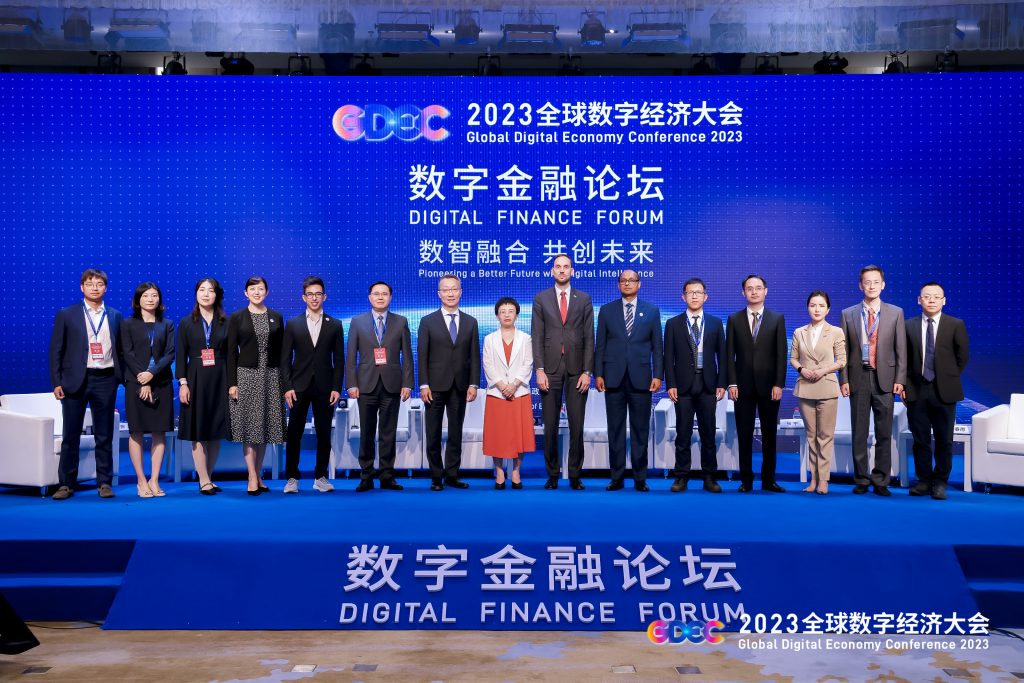 Mr. Perera actively participated in the GDEC 2023 Digital Finance Forum, moderated by Ms. Zhang Li, Executive Vice President of Asia Digital Group, where eminent panelists engaged in a thought-provoking discussion on the topic "Pioneering a Better Future with Digital Intelligence." His presentation captivated the audience as he shared Sri Lanka's journey towards national digitalization. One standout highlight was the success story of the National Fuel Pass solution, which played a crucial role during a critical economic crisis in Sri Lanka. Additionally, Mr. Perera shed light on the ongoing development of Sri Lanka's National Digital Strategy, emphasizing the country's visionary Digital Vision.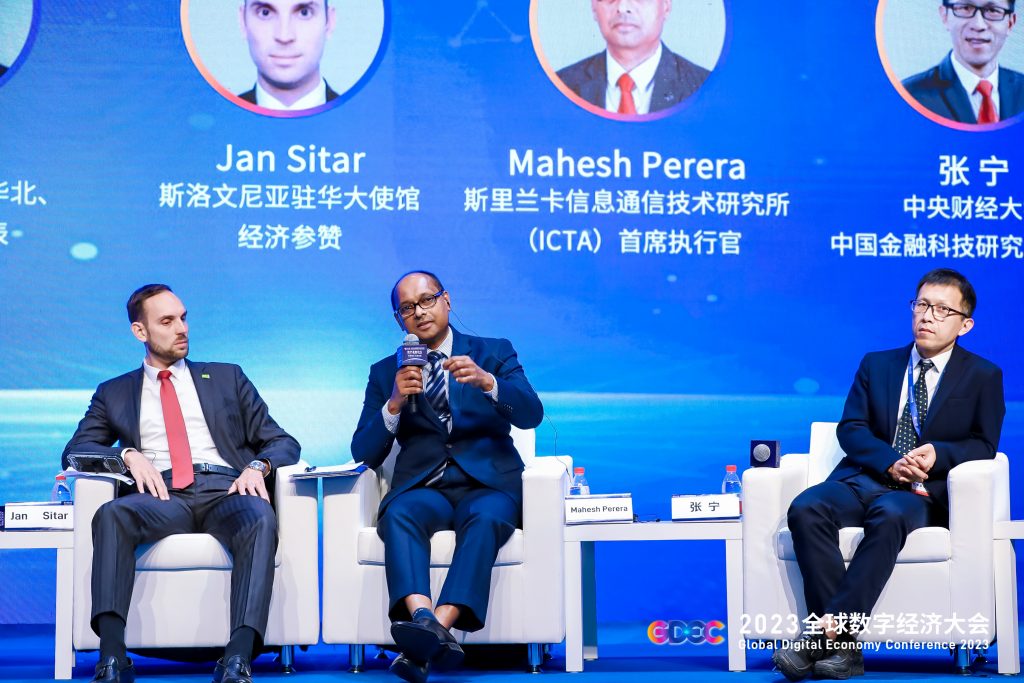 Mr. Perera's participation in the Global Digital Economy Conference 2023 not only highlighted Sri Lanka's progress in digital transformation but also fostered valuable networking opportunities with international counterparts. This event serves as a testament to Sri Lanka's steadfast commitment to improving the digital finance realm, harnessing the power of the digital economy, and positioning itself as a prominent player in the global digital landscape. Furthermore, by participating in this esteemed conference and engaging with industry leaders, Sri Lanka gains invaluable opportunities to learn from their expertise, exchange knowledge, and adopt best practices. This experience not only strengthens Sri Lanka's position but also paves the way for enhanced digital innovation, sustainable growth, and establishes vital networking connections in the global digital landscape.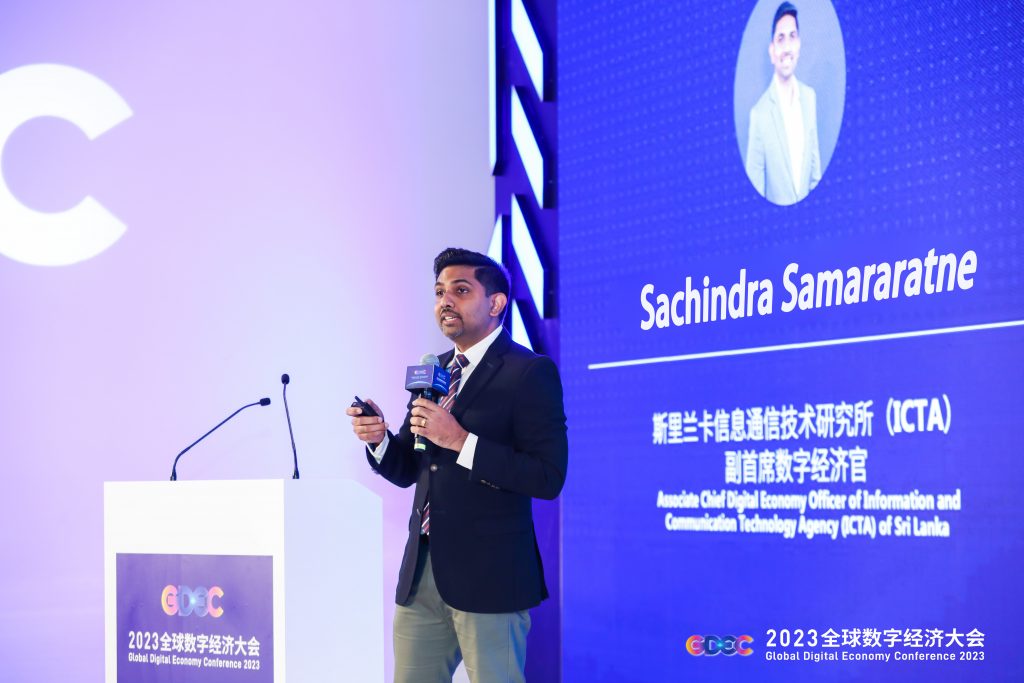 Mr. Samararatne, who presented the keynote speech at GDEC's Global Digital Economy Innovation Competition, underscored Sri Lanka's digital economic growth and growing startup ecosystem, establishing the country as a vibrant hub for innovation, entrepreneurship, and investment. He went on to emphasize the vital role of startups in Sri Lanka's digital economy, highlighting their contribution to innovation and economic growth. Recognizing the potential for collaboration, he extended an invitation to the audience, expanding the global market space for the Sri Lankan IT industry. Furthermore, he mentioned of Sri Lanka's digital economy master plan and the regulatory policy framework known as DIGIECON 2030. In a forward-looking gesture, he invited attendees to visit Sri Lanka and participate in the upcoming Digital Investment Summit in October, solidifying Sri Lanka's commitment to fostering partnerships and driving digital transformation.
China proposed the global digital economy partnership city cooperation initiative during the conference, solidifying its role as a crucial platform for international collaboration in the digital economy.
The outcomes of the Global Digital Economy Conference 2023 will play a major role in strengthening exchanges with advanced cities in the global digital economy, promote global digital innovation cooperation, and organize a series of activities in overseas sub-venues. This conference opened the opportunity not just for Sri Lanka but all participating countries to learn from each other, network, collaborate and work towards global digital evolution.
The conference highlighted the accelerating development of key areas of the digital economy worldwide. Notably, as of March 2023, 256 network operators in 95 countries and regions had commercialized 5G technology, with 1.15 billion 5G users worldwide and a 30.6-percent population coverage rate of 5G network, marking a 5.5 percent increase year on year. It also successfully brought together distinguished figures, experts, scholars, and institutional leaders from various sectors, including politics, industry, academia, research, and application fields, both from China and around the world. Their collective objective was to explore and exchange new rules of international governance within the rapidly evolving digital landscape.
With the conference's outcomes contributing to strengthening exchanges and promoting global digital innovation cooperation, the accelerating development of the digital economy worldwide continues to open up exciting opportunities for growth and progress. Sri Lanka's participation in such prestigious events reaffirms its dedication to harnessing the power of digital technologies and positioning itself at the forefront of global digital advancement.